In order to provide WhatsApp messaging services to your contacts, Converso uses the WhatsApp Business API, now referred to as the WhatsApp Business Platform.
The Business Platform differs from the personal WhatsApp Messaging app and the WhatsApp Business App in that it allows message service providers, such as Converso, to connect with WhatsApp via their API (application programming interface).
This provides an increased level of message management via Converso's user interface which is designed specifically for sales and support teams.
The following article describes how WhatsApp accounts and services work for businesses.
For details about how to create and connect your new WhatsApp Business account, please read here.
(Please forgive the acronyms!):
1. Business Solutions Providers (BSP)
Meta (who owns WhatsApp) distribute the Business Platform only through BSPs (Business Solutions Providers). These BSPs package the Platform's API (application programming interface) so it can be used by message service providers such as Converso.
Converso uses 360dialog (www.360dialog.com) as our BSP, as their sole focus is on providing services to ISVs (independent software vendors) like Converso. They are also WhatsApp's largest BSP.
Setting up a WhatsApp Business Account therefore involves creating a client account with 360dialog, through which you get access to the WhatsApp Business Platform. There are no costs for setting up a 360dialog account for this, as all WhatsApp costs are billed through Converso.
Once you have created an account at 360 dialog, you can access your client account at app.360dialog.io. This allows you to create message templates, amongst other functions.
As part of the account creation process, you will also be accessing your Meta / Facebook Business account if you have one (or if not, you can create a new one during the account creation process).
It's quite straightforward to create an account - it only takes around 10 minutes.
Once you've finished, 360dialog will provide you with access to a client hub from which you can access and manage various aspects of your WhatsApp account, and most importantly the ability to create message templates. You can also access the same information via your new WhatsApp Business manager.
We've included all the relevant info you need in this knowledge base to help you get started.
2. WhatsApp Business Account (WABA)
Your new Business Account for your WhatsApp service is, unsurprisingly, called a WhatsApp Business Account (WABA).
It manages the phone numbers, message templates and other elements associated with your WhatsApp service.
Within your company you can have separate WABAs for different divisions, and you can have an unlimited number of WABAs under a Business Manager.
Each WABA has an ID (which is different from the Business Manager ID). To find your WABA ID, please see below: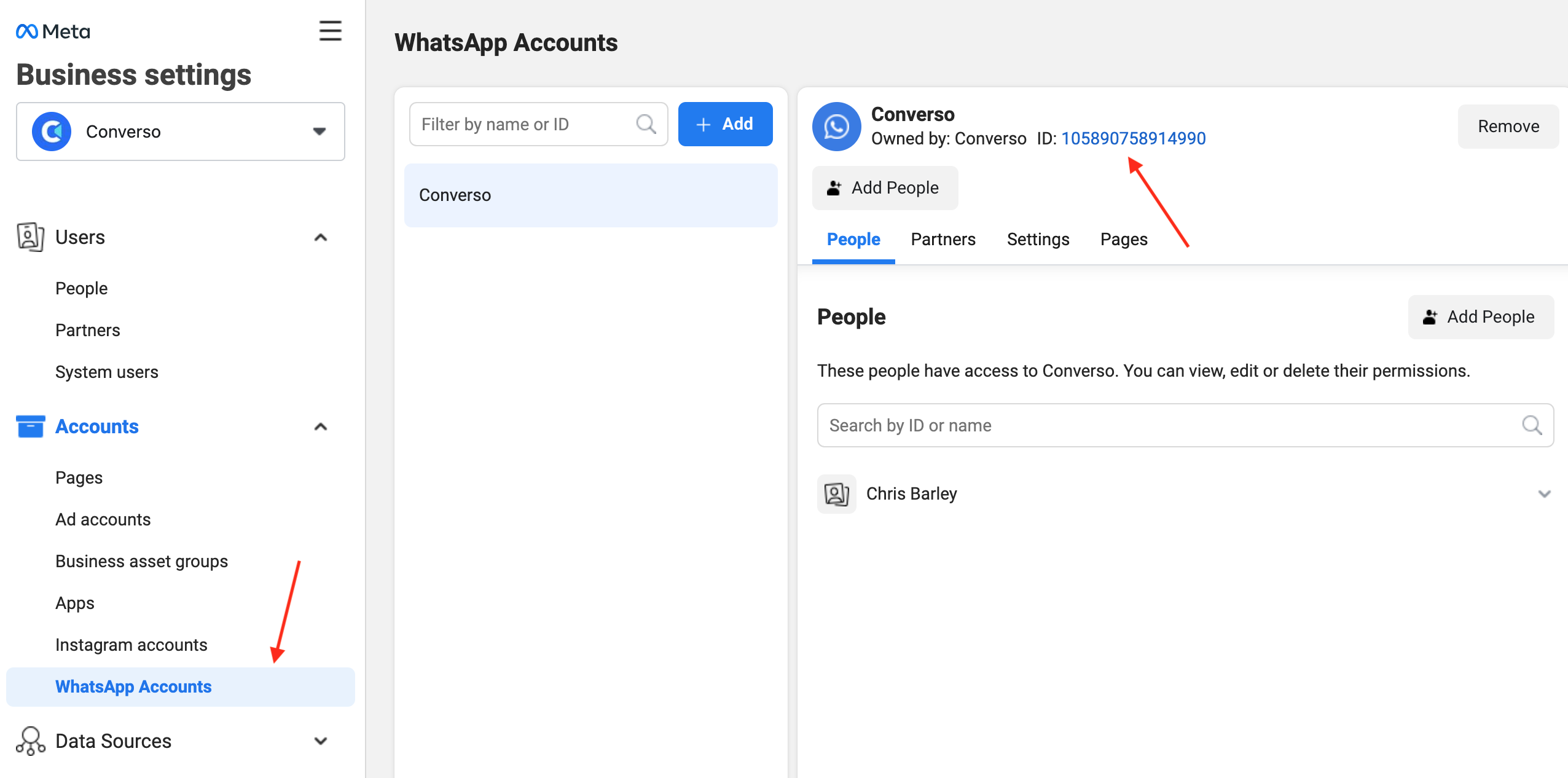 3. Business Manager account
The WABA is a Facebook asset that sits alongside your Facebook page, Instagram account and Facebook Ad account. It can be managed via your Meta Business Manager account.
If you don't have a Business Manager account, you can create at https://business.facebook.com or during the account creation process.
It is recommended that users should check whether there's an existing Business Manager before creating a new one to avoid duplication.
A single Business Manager can contain multiple WABAs.
Each Business Manager has a specific ID. To find your Business Manager ID, please see below: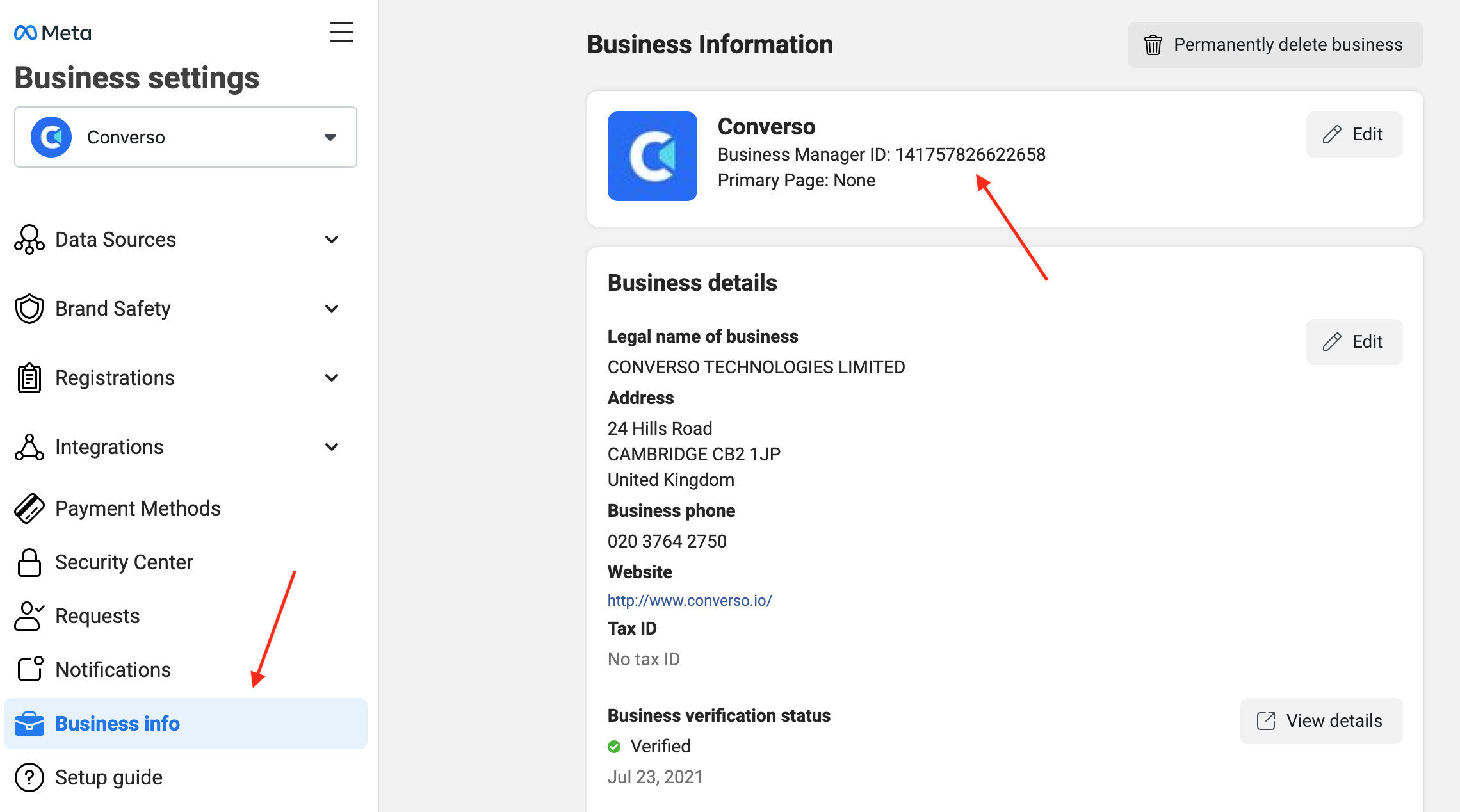 4. Phone numbers
A WhatsApp service needs to be associated with a phone number.
For the account creation process, you will need to input a phone number you own. You can use one of your existing phone numbers, eg a landline or mobile number, but the number can't already be in use with an existing WhatsApp account (either personal or Business).
If you do want to use an existing WhatApp number, eg one you use with your WhatsApp Business App, you will need to delete the WhatsApp account associated with that phone number. You can find further instructions on how to do that here.
If you want to use a new number for your WhatsApp service, please contact Converso support at support@converso.io.
The number needs to be verified during the account creation process. To verify a number, you will receive a 6 digit code via voice call or SMS.
Please note that if you use a number from Converso you will have to receive the code via voice call, not text - please let us know, and we will forward calls to a SIP softphone account you manage.
A single WABA can contain upto 25 phone numbers. You can see the numbers managed under a specific WABA directly from your Business Manager: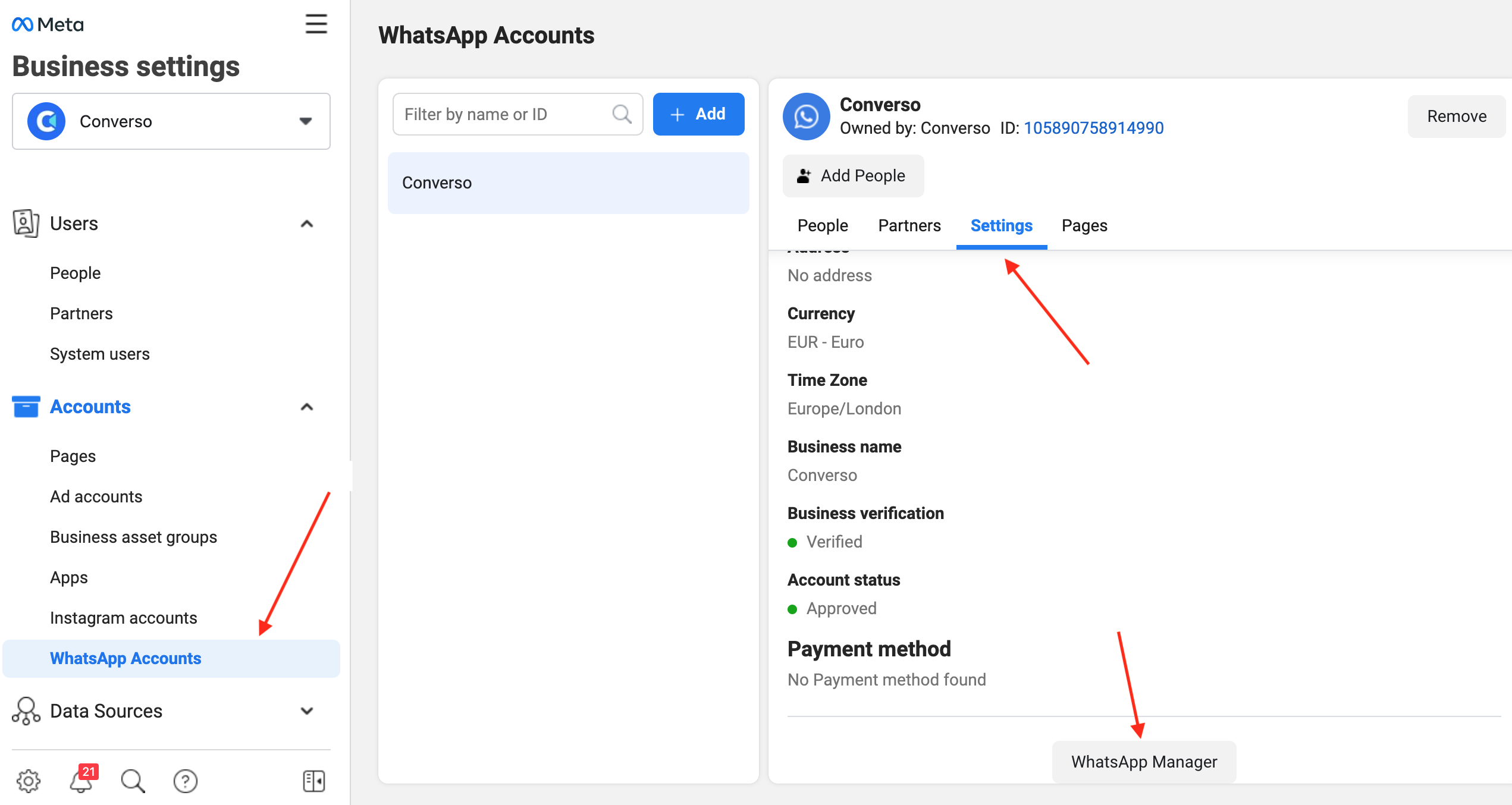 Once your account has been created, if you want to add new numbers, these should be added via the 360dialog client hub, not via the Meta Business Manager.
A new phone number can be added via the blue "+" sign in the top right hand corner: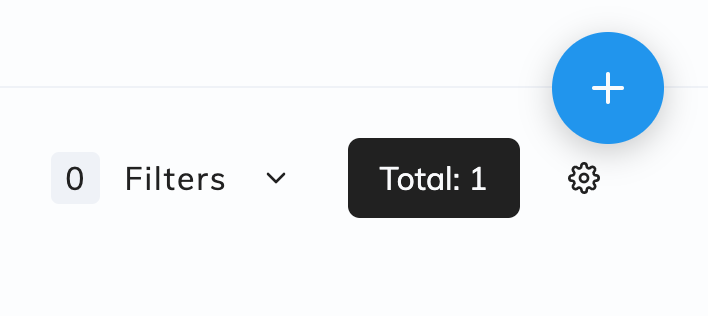 5. WhatsApp Commerce Policy review
WhatsApp will review your WhatsApp Account to ensure that it is compliant with the WhatsApp Commerce Policy. Examine the policy closely to make sure your business is compliant.
This review will happen in the background, after the account has been made live. If the account is not approved, it will be immediately suspended. You are able to appeal this decision by creating a support ticket.
You can also downgrade to the WhatsApp Business App; you can find information regarding this process here.
6. Initial message limits
After completing the number registration processes, you will be able to:
> Respond to unlimited customer-initiated conversations (within the 24-hour messaging window)
> Send business-initiated conversations via message template to 50 unique customers in a rolling 24-hour period. This will only happen after your account has been further checked by Facebook. This will take about 2 hours.
> Register up to two (2) phone numbers, which can both be assigned to 1 WABA or split between 2 WABAss.
Remember that you can only send an outbound message to a customer via a message template that has been approved by Meta.
7. Business verification
You can increase the number of messages and phone numbers by completing Business Verification.
This will give you access to the Standard Access Tier which consists of:
> Currently available messaging limits (1K, 10K, 100K, unlimited unique customers/day)
> More than 2 phone numbers
The next stage is an Official Business Account (OBA).
A further knowledge base article will include more details on how to get your business verified and obtain an OBA.
8. Disconnection after signup
If you went through signup but your account was disconnected after the WhatsApp Commerce Policy check, this could be because you did not complete the Business Info section of the Business Manager in full.
If your number was disconnected after signup, please check the Business Info section of your Business Manager. If any piece of information is missing (especially website details), you will need to fill it in and then Request a Review from Meta.
You can request this review via Meta Business Manager > Account Quality. You do not need to contact 360dialog to do this.
The Account Quality page is in the URL business.facebook.com/accountquality